Seoul Semiconductor Seeks Greater Market Share in Global High-Power LED Market Valued at USD 2 Billion with Innovative WICOP LED Technology.
ANSAN, South Korea--Seoul Semiconductor Co., Ltd. (KOSDAQ 046890), a leading global innovator of LED products and technology, announced that it has introduced high-power LED package 'Z5M4' with WICOP technology, one of the second-generation technologies in the LED industry. Z5M4 is 10% brighter than the conventional products and is easy to replace the existing high-power products. Accordingly, Seoul Semiconductor seeks to expand its market share in the USD 2 billion worth of global high-power LED market for street lighting, bay-lighting, and horticulture lighting, which has been formed by vertical chip manufacturers.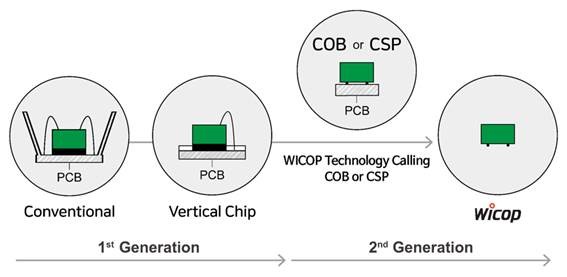 Comparison of WICOP and product design stolen under the name of COB or CSP
* Vertical chip: Excellent heat dissipation structure with vertical electrodes design
* COB (Chip on Board): A structure that reduces the volume by connecting wires to a semiconductor chip directly mounted on a printed circuit board
* CSP (Chip Scale Package): Silicon semiconductor technology that makes BGA (Ball Grid Array) on silicon semiconductor chips and assembles them in a clean room
Z5M4 LED with WICOP technology is designed to be 1:1 compatible easily with existing high-power products, and its excellent heat dissipation structure makes it a high-power LED package suitable for high-brightness and high-efficiency. It offers an industry-leading high luminous efficiency of 175 lm/W and can be used for up to 100,000 hours.
Seoul Semiconductor has been leading the global market with its core patented technology, which obtained a permanent injunction against Philips TV product and 13 automotive lighting brand LED products infringing WICOP patents in 2019 and 2021."Seoul Semiconductor's Z5M4 LED for high-power lighting will quickly encroach the USD 2 billion market dominated by vertical technology companies. We plan to apply this product not only to the high-power lightings, but also to the electronic device flash and automotive lightings, followed by SunLike LED, a natural sunlight spectrum LED technology," said an official of Seoul Semiconductor.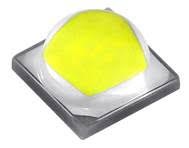 Seoul Semiconductor's Z5M4 package with WICOP technology
About Seoul Semiconductor
Seoul Semiconductor is the world's second-largest global LED manufacturer, a ranking excluding the captive market, and has more than 10,000 patents. Based on a differentiated product portfolio, Seoul offers a wide range of technologies, and mass produces innovative LED products for indoor and outdoor lighting, automotive, IT products, such as mobile phones, computer displays, and other applications, as well as the UV area. The company's world's first development and mass production products are becoming the LED industry standard and leading the global market with a package-free LED, WICOP; a high-voltage AC-driven LED, Acrich; an LED with 10X the output of a conventional LED, nPola; a cutting edge ultraviolet clean technology LED, Violeds; an all direction light emitting technology, filament LED; a natural sun spectrum LED, SunLike; and more.