PRIME
TECHNICAL FEATURES
FULL CUT OFF DESIGN
Prime provides three housing size options with light weight and lasting durability. It offers an extensive lumen ouputs and light distributions, efficacy up to 155lm/w and energy reduction up to 70% compared to traditional Metal Halide. Prime delivers maximum output with minimum watiage offering the best possible technical performance.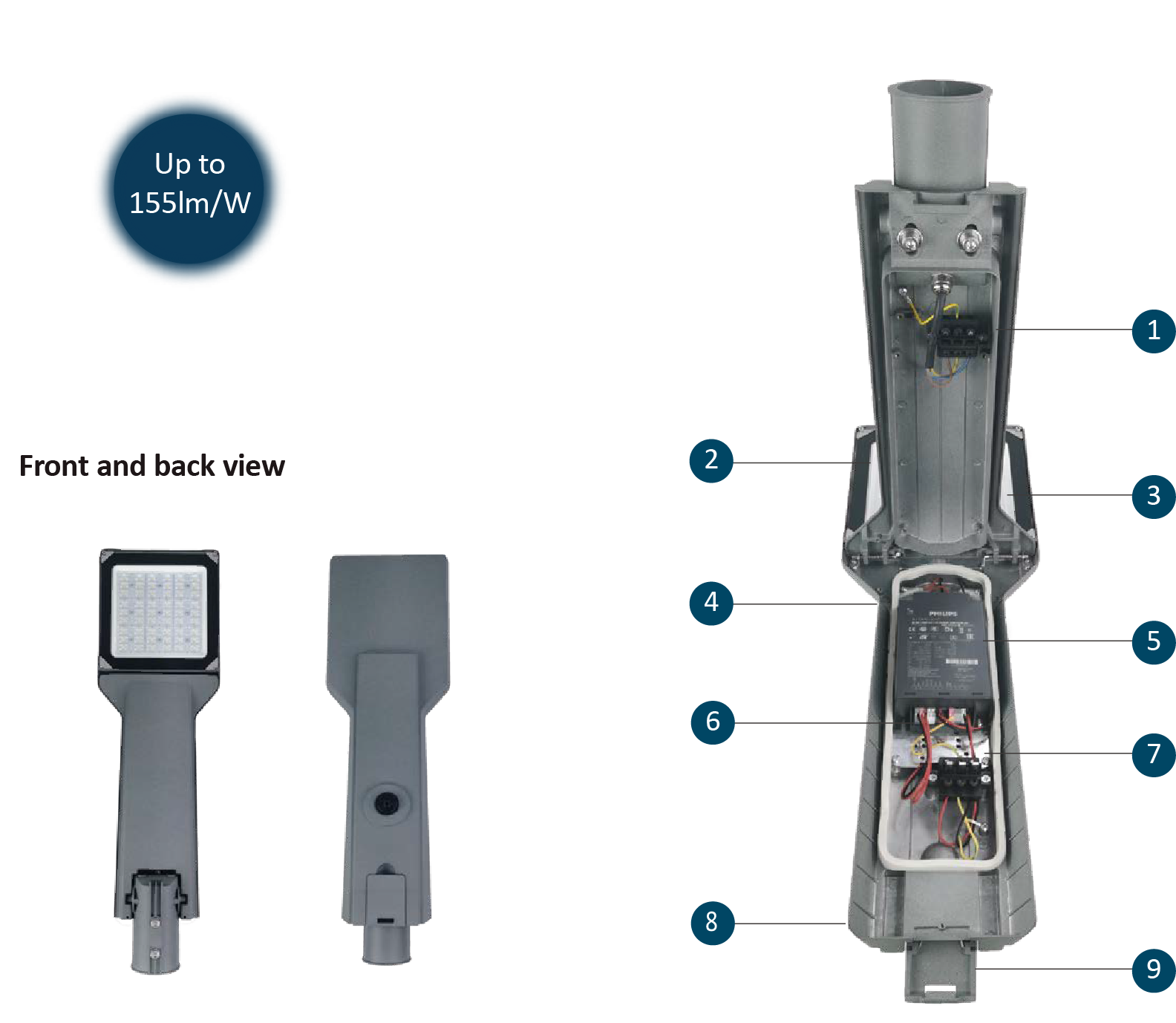 1 - Protector
Automatic power disconnection for safe maintenance
2 - LED
High-quality LED sources with high intensity, reliable long
lifespan and less lumen depreciation
3 - Optics
Precision light distributions provide wide column
spacing, excellent uniformity without obstrusive light
4 - Housing
Robust Die-cast aluminum IP66 rating
5 - Driver
Meanwell/Inventronics/Philips advanced driver, built-in
standard 10KV surge protector.
6 - Power Outlet
Auxiliary power outlet for connection with intelligent control system. Nema and Zhaga compatible
7 - Driver Plate
Isolated removable aluminum plate for driver and extra surge protector
8 - Finish
Textured 3-5 mils powder coated, applied electrostatically, prevent corrosion and protect againest extreme environment conditions
9 - Buckle Fixing
Buckle opening design for easy access to internal components,
easier maintenance without the need of tools.
SOLUTION FOR AEAR LIGHTING
Prime excellent performance with light output of up to 31000lm is powerful and capable for wide application of area
lighting. Slim, low profile design, optimal thermal management, long life time with lasting durability, it guarantees years
of reliable performance, ensuring a low cost of ownership. It is ideal solution and suitable for residential areas, car parks,
walking cycling paths, tennis courts and other outdoor activities.
APPLICATION AREAS